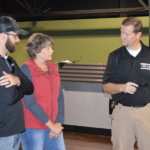 Serving The Great State Of Texas
STR8-SHOT is all about informing the law abiding citizen with everything they need to carry their firearm legally. With our certification, you have your license to carry throughout the state of Texas. Follow our government approved course,
and you will know all the laws that go with your LTC including what posted signs mean and how that affects you.